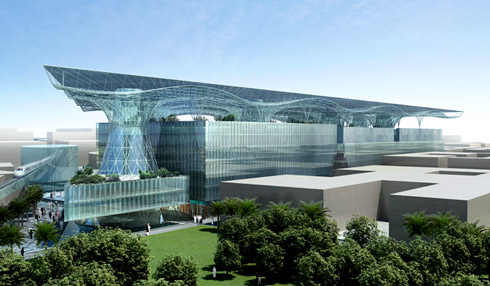 more images on Smith  + Gill Architecture website
Chicago architecture firm Adrian Smith + Gordon Gill Architecture win global competition to design Masdar's headquarters in first zero-carbon, zero-waste city.
ABU DHABI, United Arab Emirates, Feb. 22 /PRNewswire/ -- Masdar announced today that it has chosen Chicago architecture firm Adrian Smith + Gordon Gill Architecture (AS+GG) to design its headquarters in Abu Dhabi's Masdar City, the world's first zero-carbon, zero-waste city fully powered by renewable energy. The headquarters will be the world's first large-scale, mixed-use "positive energy" building, producing more energy than it consumes. In addition to being the location of Masdar Headquarters, the building will accommodate private residences and 'early bird' businesses starting up in the city.
Dr. Sultan Al Jaber, CEO of Masdar, said AS+GG is internationally recognized for high-performance, energy-efficient and sustainable architecture. "We know Adrian Smith + Gordon Gill Architecture share our vision for Masdar's headquarters. This building is at the heart of Masdar City, and its net positive energy design and new innovations will reflect our mission of developing sustainable future energy solutions."
AS+GG teamed with Chicago-based MEP engineers Environmental Systems Design and structural engineers Thornton Tomasetti on the design, which includes numerous systems that will generate a surplus of the building's energy, eliminate carbon emissions and reduce liquid and solid waste. The complex will utilize sustainable materials and feature integrated wind turbines, outdoor air quality monitors and one of the world's largest building-integrated solar energy arrays.
Compared with typical mixed-use buildings of the same size, the Headquarters will consume 70 percent less
water.
"In line with the Abu Dhabi 2030 Development Plan, Masdar is choosing to emphasize sustainability over height. We hope and expect this will set a new direction for worldwide competition in sustainable design," Dr. Al Jaber continued. In addition to being the first mixed-use net positive energy building in the world, AS+GG's Masdar Headquarters will:
Be the lowest energy consumer per square meter for a modern class A office building in an extremely hot and humid climate
Feature one of the world's largest building-integrated photovoltaic arrays
Employ the largest solar thermal driven cooling and dehumidification system
Be the first building in history to generate power for its own assembly, through development of its solar roof pier before the underlying complex
"We're thrilled to be working on a project of this importance and magnitude. Masdar Headquarters is one of the most significant developments of our time," said Adrian Smith, partner, AS+GG. "As a positive energy complex, the project will have a far-reaching influence on the buildings of tomorrow."
"Masdar Headquarters will set a new paradigm for the way buildings are designed, constructed and inhabited," said Gordon Gill, partner, AS+GG. "The project represents the perfect integration of architecture and engineering, resulting in dynamic, inviting building that outperforms any other structure of its type in the world."
Construction of Masdar City commenced with a formal ground-breaking ceremony on February 9, 2008. The City will be constructed over seven phases and is due to be completed by 2016. Masdar's headquarters is part of phase one and will be completed by the end of 2010.
The design competition for Masdar's headquarters was managed by the Louis Berger Group and began with a field of 159 participants, which was narrowed down to 15 architecture and design firms. The criteria for selection of the 15 included building functionality, water and wastewater efficiency, indoor environmental quality, zero carbon emission, carbon footprint reduction and firm experience. Four global leaders in sustainable architecture and design were then chosen to submit final proposals.
A global jury of seven world renowned design and urban planning experts chose AS+GG's design from the finalists. The jury consisted of:
A. Hashim Sarkis -- Aga Khan Professor of Landscape, Architecture and Urbanism in Muslim Societies in the Department of Urban Planning & Design at Harvard's Graduate School of Design (Cambridge, MA)
Dennis A. Andrejko -- Associate Professor at the University of Buffalo School of Architecture and Planning (Buffalo, NY)
Greg Mella, AIA, LEED AP -- Principal at SmithGroup (Washington, D.C.)
Jean-Marie Charpentier -- Architect for Maison Mozart (Paris)
Dr. Hans-Rudolf Schalcher -- Professor at the Holcim Foundation for Sustainable Construction (Zurich), where he is also the Head of Technical Competence Center and Member of the Management Board; Chair of the Planning and Management in Construction for the Institute for Construction Engineering and Management at the Swiss Federal Institute of Technology (Zurich)
John Quale -- Assistant Professor at the University of Virginia's School of Architecture (Charlottesville, VA)
Volker Hartkopf -- Professor of Architecture at Carnegie Mellon University's Center for Building Performance and Diagnostics, The Robert L. Preger Intelligent Workplace; Director at CBPD (Pittsburgh, PA)
About Masdar
Masdar is Abu Dhabi's multi-faceted, multi-billion dollar investment in the development and commercialization of advanced and innovative technologies in renewable, alternative and sustainable energies as well as green design. By applying scale and leveraging Abu Dhabi's low-cost, tax-free manufacturing base, businesses will enjoy significant competitive advantages, allowing them to compete internationally and provide significant diversification to the Abu Dhabi economy.
To learn more about Masdar, please visit http://www.masdaruae.com.
About Adrian Smith + Gordon Gill Architecture
AS+GG is focused on the design of high-performance architecture on an international scale and is dedicated to the creation of new paradigms for sustainable development. The office utilizes a holistic, integrated design approach emphasizing a symbiotic relationship with the natural environment - or 'global environmental contextualism.' The approach reduces negative environmental impact and, in some cases, virtually eliminates it. Sites of current projects include Chicago, Abu Dhabi, Dubai, Mumbai, Vancouver, Belgrade, London and China.
To learn more about AS+GG, please visit http://www.smithgill.com